Welcome members and friends to our association web site to help keep you apprised of items of importance to us and activities within the community and beyond. We are not a tax deductible entity but 501c4 that exists for the public good of our area.
A word from a Past President –
I am often asked about the benefits of our HOA and each time I reach back in the HOA history to recount those benefits. But what about going forward – today and tomorrow, why should I join?
First let me tell you a bit of history… not details, just headlines. For the past 30 plus years, out HOA has worked with the Forest Service to protect our property, protect our right to the forest lands and proved the needed introductions between the Forest Service and other agencies to solve issues that affect us all. Our HOA has been directly responsible for the lands around the lake remaining in PG&E hands as opposed the the Pacific Land Stewardship Council donating the lands to some third party.
We are surrounded by a number of great venues for those who just want to make a short visit.  Click below to find out more.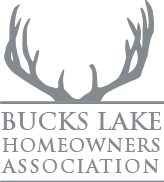 ADDRESS
Bucks Lake Homeowners Association
P.O. 1520
Quincy, CA 95971 – 1520